Principal's Welcome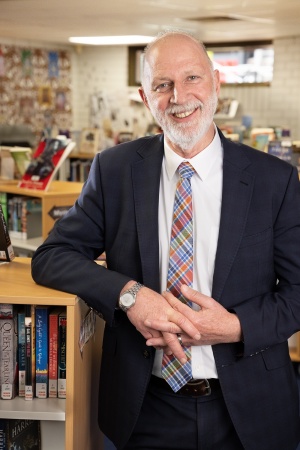 Established 115 years ago, Mount Barker High School was built to serve the local community and this ethos has stood at its heart ever since. Our motto, not for ourselves alone, reflects these close community links. We value the relationship we have with the local community and encourage our students in a range of community endeavours. This is reflected in our school vision - To inspire young people to become active citizens who can achieve their full potential and flourish, underpinned by our values of Perseverance, Respect, Resilience and Community.
Whilst we are proud of our heritage, we are focused on preparing students for a rapidly changing future. On entering the school, you feel not only the pride in our history but also the focus on providing our students with the facilities and learning opportunities to prepare them for that future. We offer a broad range of programs for our students, recognising the diversity of our school community and providing each student with the opportunity to actively and positively engage with the world around them.
Every member of the Mount Barker High School staff is committed to the students' needs and constantly strives to ensure that the teaching-learning experience challenges and supports them to embrace a society that is rapidly changing. We encourage our students to stretch themselves so that they can realise their potential and contribute on a local and global level as active, engaged citizens.
Our vision and values are supported by our Positive Education focus. Positive Education is about building wellbeing, optimism and resilience in our students so that they have the skills to cope well with life's ups and downs. All staff members undertake formal training in Positive Education, and these skills are embedded into curriculum and practice across all learning areas to ensure that our students are provided with the skills to flourish as individuals.
While this website provides an excellent introduction to what we offer, I believe that the best way to get a sense of a school is to view it in action. Therefore, I warmly invite you to join me on a tour during school hours, to see a range of classes in progress and experience for yourself the welcoming, supportive, and richly rewarding learning environment that Mount Barker High School provides.
David Garrett
Principal