Newsletters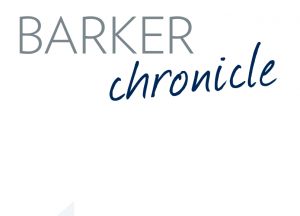 Barker Chronicle
Issue 1
Welcome back to all our students and families. What a busy start to 2021! Our first issue is full of information about staffing, new building works happening around the school, and how our new House system is showing positive results already.
Issue 2
Our second newsletter for 2021 is packed full of information about what has been happening during our first term. We have held our Annual General Meeting for the Governing Council and welcome the new members. We have held a successful Year 8 camp, Year 10 Outdoor Education camp and Sports Day.
Issue 3
This issue acknowledges the work that one of our outstanding teachers and leaders has made to our school. Vanita Hutchinson passed away peacefully on April 15 and she will be forever remembered and forever missed.
There is also loads of information about the school improvements which will be happening over the next six months as well as what has been happening around the school with excursions, camps and class activities. To find a copy follow the link in the newsletter.
Issue 4
More building works!! Read about the latest happenings with our building works along with when our school will be involved in our External Review.
We have updated our Mobile Phone Policy which outlines the roles and responsibilities of all parties in the safe and effective use of mobile phones and personal devices.
Issue 5
This issue is packed full of information about how we worked together to support our students with their learning during the lockdown, the latest updates around our building works, plus loads more.
Issue 6
More upgrades to happen in Term 4, acknowledgement of the work Simon Horne has done while he was a member of our Governing Council and our success at the Royal Adelaide Show. All of this, as well as key dates for the remainder of the year.
Issue 7
What's happening with our building works? Brekky booster information and loads more.