Newsletters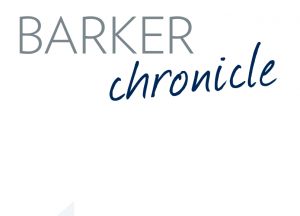 Barker Chronicle
Issue 1
Welcome to all of our students and families. What an unusual start to 2022! Our first issue is full of information about staffing, how attendance is important, maths tutoring for year 7 and 8 students and the current leaders of the House Cup.
Issue 2
How the term has flown! This issue is packed full of information about new staffing appointments, our new Governing Council members, happenings in HASS, STEM and Child Studies plus loads more.
Issue 3
What a busy start to the term! Find out about the changes to the location of our Administration Office, school sports events, successes in Art plus much more.
Issue 4
Term 2 is over. We welcome our new Principal, welcome back staff who have been on leave and farewell staff who have finished their contracts. Read about happenings in Agriculture, HMIEC classes, the Adelaide Hills Vocation College and the change in format to our Winter Arts Night.
Issue 5
Term 3 has been extremely busy already! Our new Principal, David Garrett, is settling in, we have welcomed and farewelled International students from Funabashi Municipal High School, and the staff and students in HMIEC have been having fun during their lessons. We celebrated Science Week, Book Week and participated in the SA Hills Arts Expo.
Adelaide Hills Vocational College students undertook a massive challenge when participating in the Federation Ultra Marathon. Their achievements were awesome.
Issue 6
Lots has happened over the term. The Agriculture faculty successfully participated in the Royal Adelaide Show, SRC held their Quiz Night, plus loads more, as mentioned in David's report.
Issue 7
We have had a busy start to Term 4 with lots of excursions, sporting competitions, camps and exams.
Issue 8
Our final newsletter for 2022 is full of student achievements and information about the 2023 school year.