Newsletters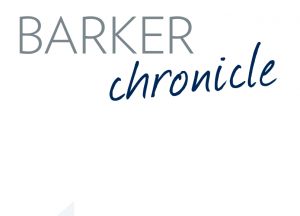 Barker Chronicle
Term 1
Issue 1
Welcome to our first issue of the Barker Chronicle for 2019. What a start to the year! Read about the exciting experience four of our students had attending the Global Summit in Japan. Our new STEM area was officially opened on Thursday, 7th February. Read about the 2018 success of our Year 12 students, plus loads more.
Issue 2
Lots has happened since our last issue. We have a new Governing Council and SRC representatives, held our Open Night and welcomed students from our feeder Primary Schools during their transition days. Read about the benefits of being mindful and the success of our Pedal Prix teams in Mount Gambier.
Issue 3
Plans are now being finalised for our next building re-development. The Flaxley Road upgrade has commenced, our Barking Mad Pedal Prix teams race results from Round 2 held in Loxton plus loads more.
Issue 4
No bell trial, Reconciliation Week Assembly, Winters Arts Night plus lots more from our English and Hass faculty.
Issue 5
Last issue for the term. Read about the success at the latest meet for our Pedal Prix teams. We farewell our current International students and welcome another 6 students from around the globe as well as 15 students from Funabashi Municipal High School.
Issue 6
Welcome to our first issue for Term 3. Read about our busy start to the term, where we welcomed 26 International Students, held a successful Drama Production and conducted workshops around bullying.
Issue 7
Welcome to another issue for the term. Read about our success at the Royal Adelaide Show, Drama happenings, Music Night review and much more.
Issue 8
Lots of information about key dates and events for our senior students, National STEM in schools event, farewell to our Internation student, Rio Watanabe plus loads more.
Issue 9
Welcome to our last issue for the year. This issue is full of positive stories as well as farewells and information for the start of 2020.