Harold Mitchell Centre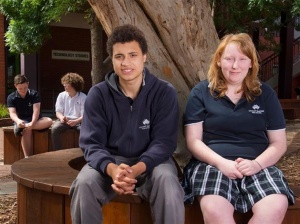 About the Harold Mitchell Centre at Mount Barker High School
The Harold Mitchell Centre provides high quality education for students in Years 8 to 12, who have a verified intellectual disability and/or complex communication/sensory learning needs. Mount Barker High School Harold Mitchell Centre comprises of three classes: HMC1, HMC2 and HMC3. The maximum capacity across the three classes is 28 students. HMC1 and HMC2 have a maximum of 16 students across the two classes and HMC3 has a maximum of 12 students.
We seek input from families, DECD specialists, Developmental Educators, Psychologists, Speech Therapists, Occupational Therapists and NDIS Coordinators to develop individualised goals and teaching programs to support student learning.
Our daily routines for students with complex communication/sensory needs include interoception/sensory breaks focussed on the eight senses:
auditory (sense of hearing)
olfactory (sense of smell
oral (sense of taste)
visual (sense of sight)
tactile (sense of touch)
vestibular (how we sense where our bodies are in space)
proprioceptive (our sense of the way our bodies move)
interoceptive (the sense of knowing what is going on INSIDE our bodies, such as feeling hunger, thirst, tired, pain, temperature, using the bathroom, and any other internal sensations)
Assessment and Reporting
All students have a One Plan (formerly known as a Negotiated Education Plan) with individualised learning goals. Learning goals are founded on the Australian Curriculum Literacy, Numeracy and Personal Social Continuums and are negotiated annually at One Plan review meetings.
In accordance with the 'Guidelines for Reporting on Australian Curriculum in DECD Schools' (Section 4.3.6), there is no requirement for assigning A-E grades. Our reporting is against individual learning goals in Terms 2 and 4.
Curriculum
As in all DECD schools, educators in the Mount Barker High School Harold Mitchell Centre use the Australian Curriculum as the framework for planning for teaching and learning. Students in Years 11 and 12 are enrolled in Modified SACE subjects and aim to attain the required 200 credits for completion by the end of Year 12.
Modified SACE Subjects
In the Harold Mitchell Centre classes at Mount Barker High School we offer Stage 1 and 2 subjects in modified form for students with identified intellectual disabilities. Modified subjects are available from eight learning areas of the SACE curriculum.
Each of the following subjects are either studied as a 10-credit subject or 20-credit subject at Stage 1, and as a 10-credit subject or a 20-credit subject at Stage 2.
Business and Enterprise: Modified
Creative Arts: Modified
Cross-disciplinary Studies: Modified
English: Modified
Health: Modified
Mathematics: Modified
Scientific Studies: Modified
Society and Culture: Modified
The Personal Learning Plan: Modified is studied as a 10-credit subject at Stage 1 and the Research Project: Modified is studied as a 10-credit subject at Stage 2.