Students with special needs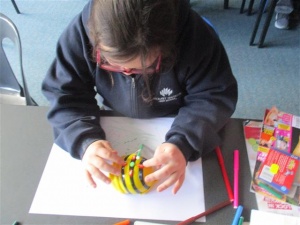 All members of our teaching staff are skilled at managing a broad spectrum of learning abilities, and identifying those areas where individual students may be facing learning difficulties.
Since no two students are ever the same, strategies to assist learning are tailored to most effectively benefit each student separately.
Our Specialist Facilities
Mount Barker High School's Special Education Unit and Mitchell Class, support students with a complex range of special needs and intellectual disabilities including Down Syndrome and Autism Spectrum Disorder (ASD).
The Special Education Unit comprises two specially-designed, self-contained classrooms that are connected to the mainstream school. Together, the classrooms accommodate around sixteen students, and provide 'special class' programs and support through a modified curriculum, smaller class sizes, additional School Support Officer support and other adjustments as required.
A dedicated yard area in the Special Education Unit has been created to assist the learning of students, and includes a fenced play area to allow some of our higher needs students to develop their skills of interaction, boundary recognition and personal space.
Mitchell is a larger class of twelve students, which is also centrally located in the school but separate from the Special Education Unit.
Students in these specialised classes are grouped in vertical year levels and loosely allocated on ability levels, with students moving to other unit classes depending upon their ability in individual subjects. In addition, unit students move as a class to specialist learning areas such as Art, Technology, PE and Home Economics, utilising the mainstream facilities and with the support of mainstream specialist teachers.
Teachers from the mainstream work hand-in-hand with teachers in the Special Education Unit and Mitchell Class to provide enriched learning programs that allow students to feel engaged and included in the wider school community.
Students are enrolled in the Special Education Unit and Mitchell Class through the Regional Education Office, when they are in Year 7. A transition program is then initiated in Term 4 of that year to prepare them for moving to Mount Barker High School.
Staff details of Special Unit and Mitchell Class
Co-ordinator Of Students With Disabilities
Michelle Sboro