Newsletters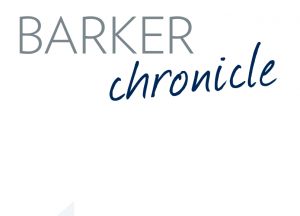 Barker Chronicle
Term 1
Issue 1
Welcome to our first issue of the Barker Chronicle for 2019. What a start to the year! Read about the exciting experience four of our students had attending the Global Summit in Japan. Our new STEM area was officially opened on Thursday, 7th February. Read about the 2018 success of our Year 12 students, plus loads more.
Issue 2
Lots has happened since our last issue. We have a new Governing Council and SRC representatives, held our Open Night and welcomed students from our feeder Primary Schools during their transition days. Read about the benefits of being mindful and the success of our Pedal Prix teams in Mount Gambier.
Issue 3
Plans are now being finalised for our next building re-development. The Flaxley Road upgrade has commenced, our Barking Mad Pedal Prix teams race results from Round 2 held in Loxton plus loads more.
Issue 4
No bell trial, Reconciliation Week Assembly, Winters Arts Night plus lots more from our English and Hass faculty.