Newsletters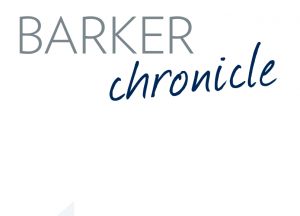 Barker Chronicle
2018
Issue 1 Term 1
Welcome to our first newsletter for the year which is packed full of important dates, staff changes and good news stories.
Issue 2 Term 1
Open Night Wednesday, 21 March 4.30pm - 8pm (Principal's Address 6.30pm). Learning intention and success criteria - words your child will be hearing in every lesson. Volunteers needed to for our Year 10 PLP mock interviews. Lots of photos from our Year 8 camp to Victor Harbor plus loads more.
Issue 3 Term 1
Old Scholars Network, new members of Governing Council, practicing gratitude plus much more.
Issue 4 Term 2
Welcome back to Term 2. Find out what is happening in relation to our school improvements and STEM building progress as well as staff and student success stories.
Issue 5 Term 2
This issue is packed full of good news stories and information about school happenings.
Issue 6 Term 2
This issue has information about the feedback we received from our External Review held in Week 6, how to preparing students for the world and how you can help your child at school.
Issue 7 Term 3
Welcome back to Term 3 and to our International Exchange students and our new Pastoral Care Worker. Read about two of our students who attended the STEM Explorer camp during the school holidays. Plus find out about school happenings over the next few weeks.