Newsletters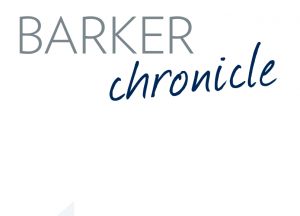 Barker Chronicle
2017
Issue 1 Term 1
Welcome to our first newsletter for the year which is packed full of important dates, staff changes and good news stories.
Read now
Issue 2 Term 1
Read about our next three year focus on Visible Learning, what our Senior students are doing in their Positive Education classes and an overview from the recent Year 8 camp.
Read now
Issue 3 Term 1
This issue brings more information about how we are progressing with our STEM design process, the National Day of Action Against Bullying and Violence, our participation in Harmony Day and events that our Senior School students have participated in to provide them with skills they need to make informed and responsible decisions.
Read now
Issue 4 Term 2
Welcom back to Term 2. This issue is full of imformation about school improvements, new staff, STEM Think Tank plus loads more.
Read now
Issue 5 Term 2
Congratulations to our Pedal Prix teams, Barking Mad and Barking Mad Too. STEM update and HASS and English faculty happenings plus loads more.
Read now
Issue 6 Term 2
School holiday workshops for our senior students, Positive Education in action as well as information about how you can support your child when talk to you about bullying.
Read now
Issue 7 Term 3
Upgrade of Home Economics area, Funabashi School Study Tour, Senior School news and more.
Issue 8 Term 3
Read about our annual Ski Trip, personal achievements by some of our students and check out the photos taken during Book Week at the photobooth.
Issue 9 Term 3
Read about our great success at this year's Royal Adelaide Show and our annual SRC Quiz Night, Wear It Purple Day, English happenings and school holiday workshops for our Senior students.
Issue 10 Term 4
Welcome to new staff for Term 4, an insight of the year that was from our Pedal Prix teams Barking Mad and Barking Mad Too and our Senior School exam schedules. Lots of dates from our Arts faculty on up and coming events plus the successful applicants for the positions advertised starting in 2018.
Issue 11 Term 4
Exciting news about the $6 million dollar building grant we have received. Lots of information about exams, alternate programs and end of year celebrations for our Year 12 students.
Issue 12 Term 4
More information about the STEM progress and changes to carparking and access to the Administration Office at the start of 2018. Staff farewells, Year 12 Award winners and loads more.
2016 Year Book
This is the second year we have produced our Year Book as an e-book. Take a look at our school year in review.