Pathways programs - Vocational Education and Training
Pathways programs - Vocational Education and Training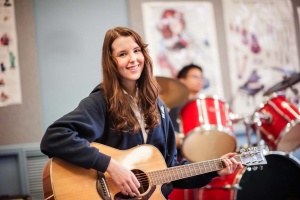 Our school offers a range of flexible learning options for students to complete VET competencies and qualifications.
Through our on-site facilities we offer three VET courses: eTechnology, Furniture Making and Music. Also, in collaboration with Mount Barker TAFE, we offer Pathways to Aged Care and Directions in Hair and Beauty Services.
As part of our membership in the Adelaide Hills Student Pathways (AHSPS), we are able to offer our students and extensive range of VET courses. This partnership provides VET and Industry Pathways Programs (IPP) students with the opportunity to access facilities and courses provided in the Adelaide Hills Trade Training Centre.
For more information please visit: http://www.ahsps.com.au
Applying to undertake a VET Course in 2018
The following documents need to be read and completed to apply to undertake a VET course in 2018. Students need to complete and print documents 1 to 4 in the order listed. If a student is applying for a VET course through TGSS funding they must complete the further documents numbered 5 to 8.
Other VET School Clusters
Southern Adelaide and Fleurieu Trade School
North Eastern Vocational Opportunities (NEVO)
VET at Mount Barker High School
A range of VET courses are delivered at Mount Barker High School. Information about how to enrol will be available at the start of Term 3.
Select a course below to learn more:
Individualised Support (Ageing) (Certificate III)
In Partnership with TAFE SA, students have the opportunity to study the Certificate III in Individualised Support (Ageing). This qualification offers a pathway to employment as a Direct Care Worker in Residential and Community Aged Care. It also offers a pathway to further study in many areas including Disability Services, Leisure and Health, Enrolled and Registered Nursing. Delivery of this qualification includes formal study at TAFE SA and a Structured Work Placement in a relevant setting.
Students require a moderate level of Learning Literacy and Numeracy and be prepared to spend additional time studying outside of workshop days attended on campus.
Pathways: Aged Care Worker / Personal Care Worker / Support worker
eTechnology Career Start (Certificate II)
The eTechnology Career Start Certificate II full year program is a practical course supported by theory, and is designed for students who aspire to a career in the electrical and electronics industries. The course provides a mix of hands-on practical experience in the trade areas of electrical wiring looms, sustainable energy alternatives, and electrical learning technology projects in our state-of-the-art technology centre.
Students also complete their National White Card training, which is required before they can enter a worksite, and undertake an Apply First Aid certificate.
Hair and Beauty Directions (partial Certificate II)
A short course to introduce you to the hair and beauty industry. This course will explore skin care, makeup, nails, blow drying, braiding, long hair styling, basin services and salon skills. From here you can study one of the Certificate II courses offered at TAFE SA or other providers.